Accommodations at Gage Towers
All accommodations for both visiting students and speakers are in the Gage Towers located on UBC campus. The address of the commonsblock for checking in is:
Gage Commonsblock
5959 Student Union Blvd.
Vancouver, BC
V6T 1K2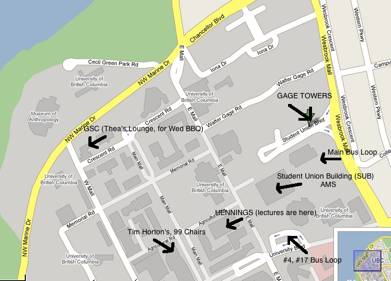 Figure 1: UBC
**When navigating through Vancouver it is often helpful to know that the Mountains are to the North**
Directions to/from the Airport
~35 minutes by taxi, 1 hour by bus
From the airport, you can either take a taxi (roughly $40 one way, we encourage you to pool together if possible) or the city bus. For the bus option, catch the #424 Airport Station bus (the only public transit bus at the airport, located at ground level) and take it to Airport Station (the end of the line). Then catch the #98 B-line Burrard Station (North) and get off at Broadway and Granville. Finally, transfer to the #99 B-line UBC (West) on the far NW corner and take it all the way to UBC Main Bus Loop. The Gage towers are due North from the UBC bus loop. The return trip uses the exact same buses in the reverse direction.
Getting to Lectures, Breakfast, Lunch, Pizza Dinner on Friday
~5 minute walk from Gage Towers
(see Fig. 1) From the Gage Towers head West until East Mall. Then head South along East Mall until you reach Agricultural Road. You are now standing in front of the Hennings building. The lectures are just up the stairs from the front door in Room 202. Coffee/Snacks/Breakfast/Lunch will be served upstairs in Rooms 302 and 304.
Getting to the BBQ/Poster Session (Wednesday Night)
~15 minute walk from Gage Towers
(see Fig. 1) From Gage or Hennings head West until your reach Main Mall. Then head North until your reach Crescent Road (end of the road). Turn West until you reach the Graduate Student Centre, which has a water fountain in front. Head in and you will find the poster session and food in Thea's Lounge on the 2nd floor.
Getting to the Cloud 9 Banquet (Thursday Night)
~ 60 minutes, including walk and bus ride
(see Figs. 1 and 2) Head SE from Hennings to the #4, #17 Bus Loop. Catch either the #4 Powell or #17 Downtown bus and take it all the way downtown to Seymour/Granville @ Robson. The restaurant is now 8 blocks West (you were headed North on Seymour). You can either walk from here or catch the #5 Robson that will pick you up 1 block West at Granville @ Robson.
The address is 1400 Robson St. (at Broughton). For the return trip catch either the #4, #17 UBC at Howe @ Robson which is 6 blocks East of the Restaurant (again the #5 Downtown can be used to save some walking)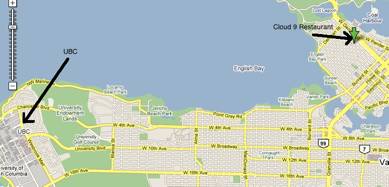 Figure 2: Vancouver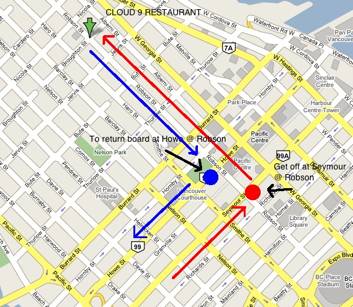 Figure 3: Vancouver Downtown
Getting to the Pizza (Friday Night)
Pizza will be served in Hennings, Rooms 302 and 304.
Miscellaneous Things to do around Campus
(see campus Map included with your welcome package)
1. The SUB: Located between Hennings and Gage, here you will find several fast-food type options (A+W, Subway, Pizza, Pasta, …), a post office, and the Pit Pub (but I would recommend Koerner's, see below).
2. The UBC Village: located a little further East on University Boulevard @ Allison Road. Contains a couple of markets, a bakery, a liquor store, a McDonald's, and several more international restaurants (mostly downstairs).
3. University Boulevard: At University Boulevard and Wesbrook Mall you will find Shopper's Drug Mart, a nice coffee shop, an Irish Pub (Mahoney & Sons), and Cafe Crepe.
4. Koerner's Graduate Pub: Located downstairs from Thea's Lounge (see directions above). Best pub on campus with foosball, pool, shuffleboard, large patio, good music, and a large selection of beer.
5. Wreck Beach: UBC's (in)famous beach. Probably the most beautiful beach in Vancouver, but be warned, clothing is optional! Head West along University Boulevard until the end, then head North along Marine until you see the sign for Trail 6. Then head down the stairs… About a 20 minute walk from Gage Towers.
6. Others: There are several other things to see at UBC, check your campus map for details, but a few highlights include the Museum of Anthropology, the UBC Rose Garden, and the UBC Botanical Gardens. More beaches (Spanish Banks, Locarno, and Jericho) can be found further east on NW Marine.