7:30 pm, Wednesday, January 9, 2008
Fairmont Social Lounge, St. John's College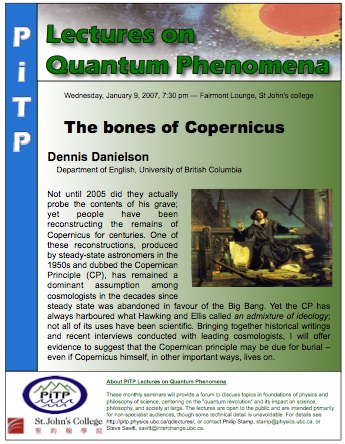 The Bones of Copernicus
Dennis Danielson
Department of English, University of British Columbia

Not until 2005 did they actually probe the contents of his grave: yet people have been reconstructing the remains of Copernicus for centuries. One of these reconstructions, produced by steady-state astronomers in the 1950s and dubbed the Copernican Principle (CP), has remained a dominant assumption among cosmologists in the decades since steady state was abandoned in favour of the Big Bang. Yet the CP has always harboured what Hawking and Ellis called an admixture of ideology; not all of its uses have been scientific. Bringing together historical writings and recent interviews conducted with leading cosmologists, I will offer evidence to suggest that the Copernican principle may be due for burial -- even if Copernicus himself, in other important ways, lives on.
---
Find out more by visiting his website.
Additional resources for this talk: slides, video.