7:30 pm, Wednesday, November 8, 2006
Hebb Theatre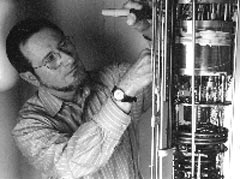 How Advances in Science Are Made
Douglas Osheroff
Nobel Laureate 1996, Stanford University

It is seldom the case that one can anticipate where great breakthroughs in science will occur, and even harder to anticipate where these breakthroughs will find applications to benefit mankind. In this talk the speaker will trace the development of NMR as an example of a development for which the applications were not at all obvious, and then describe a number of discoveries and the research strategies that allowed them to be made. Finally, he will conclude with a few remarks about how this nation must support science in order to meet the great challenges facing us in the 21st Century.
---
Find out more by visiting his website.